Recording Your Telephone Conversations
For call centres, customer support hotlines and call-intensive industries, there is useful information hidden in each phone call. Call recording gives business administrators a useful tool to ensure excellent customer service in every conversation.
Why Call Recording Phone Calls is Good?
Customer Satisfaction
By recording telephone conversations business managers can further analyse what is being said by their staff as well as understand the types of questions that customers ask. It ensures managers are abreast of customers' needs as well as product/service training for any of their customer service staff.
Employee Evaluation and Training
Recorded calls can help internal quality auditing. By listening to the recorded calls, managers can evaluate the performance of each employee. Moreover, recorded calls from outstanding employees can serve during the training of new employees, for example when training new telemarketing officers in call centres.
Security
Sometimes, confidential information is disseminated outside, both intentionally and unintentionally. Call recording ensures your staff are always professional on the phone and also enables you to confirm information that may be provided during the call or help issues when customers have complaints about your business.
Legal
If there is arbitration following conflicts with customer or employees with the business. Call recording helps in fact-finding and in verifying contractual compliance.
IMPORTANT
You are not allowed to record a conversation with anyone unless you inform them that the call will be recorded. If they ask for the call to not be recorded then they have the right to do that. Make sure you include these notifications in other digital voice service announcements.
VoIP Business Telephone System Handsets


VoIP handsets enable your small business to take advantage of the functionality and flexibility of a hosted CloudPBX. These handsets can be located in remote offices like staff or contractors homes or even interstate or international offices.
Learn more about Business Telephone System Handsets
Business Telephone System Call Flow Scenarios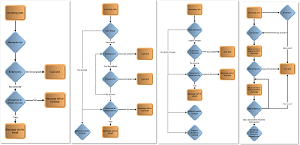 Do you want to see how most people handle the calls with their business telephone system? These call flow scenarios enable you to quickly choose from the most common choices and can help you get a good solution quickly.
Business Telephone System Scenarios
[button link="http://virion.com.au/services/cloudpbx-hosted-pbx/" bg_color="#0e6bf5″]CloudPBX Features[/button] [button link="http://virion.com.au/servicesupport/request-a-quote/"]Request a Quote[/button]  [button link="http://virion.com.au/order-cheap-phone-system-now/" bg_color="#0cba06″]Sign Up Now[/button]