Online Training
Online training enables students to learn from any location of their choosing – the office, home or when they are travelling.
Online training is available in several different formats and each format serves a distinct purpose. Here are the main formats:
Video Tutorials
Training manuals
Practical case study tasks
Exercise files
Tests
Assignments
Computer Training Online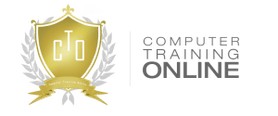 All of the above teaching aids are combined when you enrol into a Premium short course that includes the Career Academy and Industry Connect at ComputerTrainingOnline
Premium Online Short Training Courses
There is a famous saying "I hear and I forget. I see and I remember. I do and I understand." and that completely relates to learning new computer and software skills.
Learning Accounting and Bookkeeping skills using MYOB and Xero can be very complex if you haven't done it before. Learning while performing the practical tasks used in a workplace make learning more logical and reinforce your knowledge.
Mastering Microsoft Office seems commonplace but there are some advanced Excel formulas and functions that need to be practiced for the knowledge to be retained. Long-form and complex documents also take practical exercises to truly master.
Digital Marketing seems simple if you just want to write a Facebook post and "Boost it" or pay for ads but putting the common day tasks into practice is when you really understand the tasks and time involved.
See the Digital & Social Media Marketing Training Courses
Training Format for Your Goals
Job Seekers and Job Applications
Job seekers who are applying for office admin, accounting and digital marketing jobs need to write and speak with confidence to create compelling resumes and cover letters.
Video Tutorials
Video tutorials provide a "passive" way to better understand how to use software to perform work tasks. This method is more academic than practical because it doesn't involve solving problems and issues that come up when performing these tasks in the workplace – but it's cheap and quick and easy.
The Career Academy

Unless you're regularly changing jobs and actively climbing up the corporate ladder you get rusty at creating a compelling resume and cover letter.
If you are searching for jobs it helps to understand the employment market, job descriptions and what employers are looking for. That's when the Career Academy tools and support come in.
Employees and Business Owners/Managers
Employee and business owners need to use the software to fulfill their strategies, better manage their business and increase productivity.
Practical Exercises
Practical exercises using step-by-step tasks and existing exercise files are the best way to actually use the software to apply the new skills you've learnt. You can then go on an apply the skills for the specific needs of the business.
This experience automatically fills the student with confidence to discuss the software and the tasks with a better understanding.