When the Internet was new customers were scared of interacting with websites because they were scared of the risks but these days customers are interacting with, logging into and chatting with support agents on websites every day.
Web Chat with Customers and Prospects Now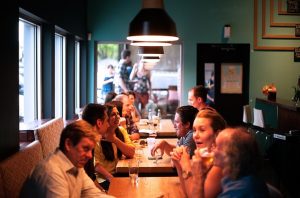 The good news about website chat services is that you can now communicate with your potential customers when they are ready. The large commercial service providers of website chat software are:
ZenDesk
LivePerson
Intercom
Olark
PureChat, and the free
Tawk.to software
These services are great to enable an immediate conversation with your customers and prospective customers. These website chat software programs enable several staff members to help your website or social media website visitors which is great if you have a good website with good information and a call to action.
Automatic website ChatBot
Website chat services are more challenging for businesses like tradies and cafes, restaurants and bars etc because they don't have a dedicated online support person waiting for customers to chat! These businesses can still use a website or social media chat service but ideally when it is automated.
The question we get asked is "Can we really use Artificial Intelligence or Machine Learning to create an automatic chat service?" and the answer is yes, but it is usually too complicated for smaller businesses because you need to have
the answers to most questions on your website and ideally
a history of responses from real life human beings for the software to "learn from".
What you can do to automate a website chat service is to narrow down the questions and answer options. For cafe's and restaurants this might be as simple as asking HOW can I help you and then giving your website visitors common options like:
Want to see our menu
Want to know our opening hours
Looking to make a group table booking
Want to see our current specials
When any of these options are selected you can then direct the website visitor to the relevant page on your website and then the prospect can use the forms and call to actions on your website.
The Offerbot is designed to increase patronage
One of the things you can automate is special offers. Some of the most modern chat software enables you to automate the process of giving your clients special offers and can even the entire process of enabling customers to redeem offers (great for "once only offers") and even help you measure ALL the aspects of your digital marketing.
The purposes of digital marketing is to:
Reach lots of prospective customers (website hits, website visitors, time on site)
Encourage then to opt-in to your business marketing messages (collect their name and contact details)
Engage with your business and brand (read, watch, like, comment and share)
Transact and use your business (order, sign up, request a quote)
Encourage word of mouth referrals
One of the most difficult tasks for a digital marketing manager is to identify how someone came to hear about the business and measure the Return On Investment (ROI).
Make more money from your existing clients using special offers
Many business owners are addicted to the thought that they need to be getting more and more NEW customers whereas their business revenue and profit can double or triple just by providing great customer service and finding ways of encouraging existing customers to use their service more often, bring their friends (restaurants, cafes and bars) and make bigger more frequent orders.
If you are interested in learning more about ways of massively increasing social media engagement and soaking up thousands of dollars of sales from existing customers make contact for our free Digital Marketing Consultation.