Use PowerPoint to create your online contractor or staff induction courses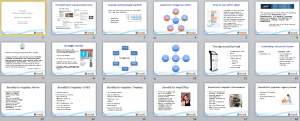 Your existing training material is the best basis on which to build your online induction courses. Microsoft Powerpoint enables you to create structured information including images, words and even videos (if you have them). These presentations can then be converted into a video format that includes an audio explanation of the important points of the course.
Most commonly companies have a PowerPoint Presentation and combine that with a questionnaire or written document for the Employee or Contractor to complete to prove they have seen the information and understand it.
If you already have a presentation for your online induction the next question is do you have a script to go with that online induction – something that somebody could read. This will create the basis for an Online Induction Audio.
[button link="http://virion.com.au/staff-and-contractor-induction-training/request-a-quote-for-online-induction-course-services/" newwindow="yes"] Request a Quote[/button]