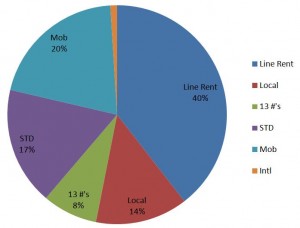 Your phone bill is divided into separate categories to itemise your costs. Important telephone cost categories are line rental, calls to mobiles, calls to STD & local. Costs like line rental are easy to identify because they are simply stated on your bill. What is often the most complicated is calls to mobiles because they incur special charges that are used to make them look attractive in the sales process.
Important Aspects of Your Phone Bill
Flag fall is the cost of simply having your call connect and the cost of this in your total bill can be quite considerable. The other aspect is billing period.
If you make a call and you speak a mere five words, some telephone plans charge you a flag fall for this privilege. The other aspect is the frequency of the billing:
by the min
per 30 seconds, or
per second
You may be on what appears to be a low rate, but if it's charged by the minute, a 15 second call will cost the same as 60 seconds and a 61 second call will be charged for 2 minutes. Virion business VoIP call plans do not have a flag fall and calls to mobiles are billed by the second so if you speak for 23 seconds you only pay for 23 seconds.
We'll Show You How to Save Money
If this sounds complicated, or you simply want a VIRION representative to provide you with cost savings advise after performing a phone bill analysis, please fax or email a scan of your phone bill to VIRION on (02) 8212 8038. Make sure you write your name and email address on the bill before faxing.
Our phone bill analysis will show you graphically how much you pay for each of the main categories so you can see clearly what needs to be reduced. We will also go through each category and show you how much you can save in each of the major costs areas. At all times we keep your information confidential.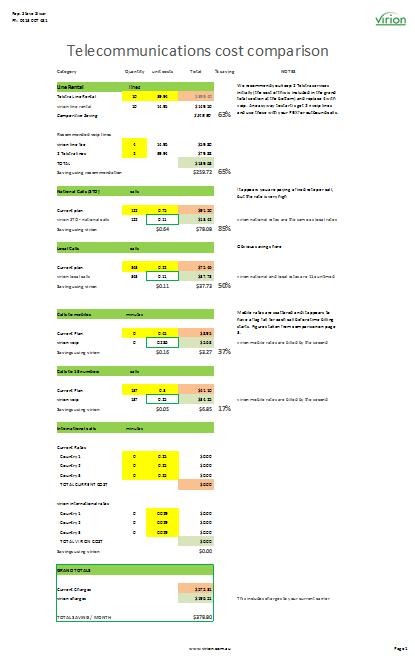 If you would like to receive a phone bill analysis report like the one pictured above, fax your phone bill to VIRION on (02) 8212 8038. Write your name and email address on the front page.