Videos keep property sellers engaged longer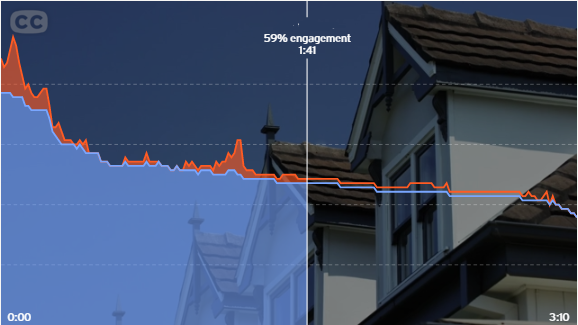 Some website visitors prefer to read the writing on your website while others prefer to watch videos but no matter which content marketing medium you choose, relevant and useful information on your website will keep visitors there longer and video analytics shows you what's working.
You can have a sample video that's freely available and if it's good your "anonymous" visitors may subscribe and join your marketing list and give you permission to send messages to them in the future. This information is probably common knowledge to you if you have spent some time researching online marketing, but the most important thing for real estate agents to remember is that you don't have to get it right or perfect the first time.
We provide our premium real estate agents with a regular digital strategy report which reviews their digital performance in all aspects of their campaigns, including:
popular landing pages,
results of online advertising like Google Adwords and Facebook Ads
click-through rates (CTR)
subscriber growth
social media influence, and
video engagement
The image in this post shows the drop off in video views for Derek Farmer, a McGrath Real Estate Agent in Sydney's Cammeray area. At first glance you see a drop that may appear bad, but these statistics are actually very good. There is always a drop off as people make the decision early on if this video is worth watching for them. If viewers are interested your goal as the presenter is to ensure that viewers stay with you until the very end and as you can see in this chart most viewers stay watching for the entire course of the video – and the video goes for a whole 3 minutes which is a long time for many Internet viewers.
Video analytics guide you to change
Video analytics like these help you make decisions that change the course of your digital strategy by telling you that you need to change or keep doing more of the same. When we work on our real estate agent websites and their digital marketing strategies video analytics is just one of the aspects we review with them regularly.
It's one thing to have a flashy website with glossy images of yourself and a couple houses you've sold but it's another thing to make regular updates to your website with an end goal in mind. Learn more about how our 123ezy Automated Marketing Response System is helping real estate agents build credibility and grow their online influence.