What is a Direct InDial Number (DID)?
A Direct InDial number is a phone number. The main difference between a DID and an extension is the capability for customers to call a particular extension (telephone handset) from outside the company and get directly to the person at that extension. It's a good way to offer excellent customer service to important clients.
Does a DID Require a New Copper Wire?
A great feature about VoIP and the digitisation of telephony is that a telephone number is now a virtual thing. It is very similar to a domain name that points to a server where a website is hosted – a phone number is configured in a VoIP telephone system and enables the number to be used from anywhere in the world!
Many people still associated a telephone number with a copper cable (lines) coming into the office but because VoIP uses your broadband Internet you don't need any extra lines – just a good broadband Internet service.
You can now have a Hosted PBX without the high capital expense and have remote telephone extensions all over the country.
Learn more about our Small Office Telephone System Solutions:
VoIP Business Telephone System Handsets


VoIP handsets enable your small business to take advantage of the functionality and flexibility of a hosted CloudPBX. These handsets can be located in remote offices like staff or contractors homes or even interstate or international offices.
Learn more about Business Telephone System Handsets
Business Telephone System Call Flow Scenarios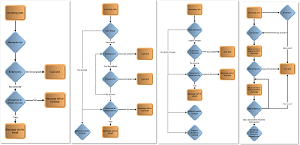 Do you want to see how most people handle the calls with their business telephone system? These call flow scenarios enable you to quickly choose from the most common choices and can help you get a good solution quickly.
Business Telephone System Scenarios
[button link="http://virion.com.au/services/cloudpbx-hosted-pbx/" bg_color="#0e6bf5″]CloudPBX Features[/button] [button link="http://virion.com.au/servicesupport/request-a-quote/"]Request a Quote[/button]  [button link="http://virion.com.au/order-cheap-phone-system-now/" bg_color="#0cba06″]Sign Up Now[/button]