Phone Extensions
An extension is an internal end point, a phone that can be accessed using the internal office phone system numbering regime as opposed to a telephone number (commonly called a DID – Direct Indial Number).
Learn more about Telephone Extensions
Call Forwarding and Diversion
Call Forward is the capability to have a call diverted to another number if the number that someone calls is either Busy or Not answered.
Read more about call forwarding
Call Transfer Methods
Call Transfer is the capability to transfer a caller that you are speaking to to another person (or telephone extension). You can also transfer callers to a telephone number outside of the extensions in your office.
Learn more about Call Transfer
Direct InDial Numbers (DID)
A Direct InDial number is a phone number. The main difference between a DID and anextension is the capability for customers to call a particular extension (telephone handset) from outside the company and get directly to the person at that extension. It's a good way to offer excellent customer service to important clients.
Learn more about Direct Indial Numbers
Music On Hold
Music On Hold gives your callers something interesting to listen to while they are waiting. This was a big deal in the early days of business telephone systems because the default music was chimes!
Learn more about Music and Messages on Hold
Marketing Numbers
The simplest and quickest way to get started with VoIP is to use our marketing numbers service. You simply sign up for one number — or ten — and tell us where you want them to be answered. We get your account up and running within 48 hours of signup.
Read more about marketing numbers
VoIP Service
This is really the same as getting marketing numbers with the exception that you want to have your IP phone system configured to be able to use the numbers on your telephone system. We end up sending you or your IT Consultant the technical information they need to use the numbers.
Voicemail-to-Email
This is a service you can sign up for once your account and your VoIP numbers have been established. It enables you to capture all calls and have the callers message sent to you as an audio attachment. It means you can get the message quickly and easily and even forward it on to another person.
Read more about Voicemail-to-Email
Auto Attended (IVR)
This service can make your business appear bigger than it is or it can simply enable calls to be directed to the correct department straight away. It is another service that can be established once you have your VIRION VoIP account.
Read more about Digital Assistants
Call Groups
This enables many staff to answer the phone for their area, eg. sales, customer service etc. It's a great way to help customers quickly and make customer service competitive in your business.
Calling Line Indicator
If you have more than one brand and more than one number you can configure your VoIP Telephone System to show you who the caller is calling for. Give better customer service and promote yourself under several brands.
Read more about Calling Line Indicators
Cloud PBX (Hosted PBX)
A hosted PBX enables all of the functions and benefits of a full service telephone PBX system in the cloud. With virion you only pay for the services of the Hosted PBX that you want.
Read more about Cloud (Hosted) PBX Systems
Business Telephone System Scenarios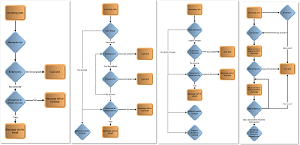 Do you want to see how most people handle the calls with their business telephone system? These call flow scenarios enable you to quickly choose from the most common choices and can help you get a good solution quickly.