No PSTN Copper Lines, Just 1 Great Broadband Connection
The quality of your broadband Internet access is critical if you wish to use it for your business phone calls and take advantage of cheap VoIP calling rates and other call handling features.
Some important things to consider:
Download and upload speeds (when you make calls, it is important that you have a good upload speed because that effects the quality of the voice data you send out).
Quality of your modem (should have the ability to optimise for Voice data… called QoS – Quality of Service). This means that if there is a lot of voice and data traffic on your network, the voice traffic will be given priority.
Use a Business grade plan because it is expected that you need the service up and running (with no downtime) most of the time. If this is critical see if your ISP has an SLA (Service Level Agreement).
Ensure that your Business grade Broadband has been prioritised for Voice traffic rather than data traffic.
If you have more than 6 extensions we recommend a dedicated VoIP ADSL service for your voice traffic. Our service is $89/m inc GST.
Get the power of a sophisticated and features rich business telephone PBX system without the capital cost with CloudPBX.
VoIP Business Telephone System Handsets


VoIP handsets enable your small business to take advantage of the functionality and flexibility of a hosted CloudPBX. These handsets can be located in remote offices like staff or contractors homes or even interstate or international offices.
Learn more about Business Telephone System Handsets
Business Telephone System Call Flow Scenarios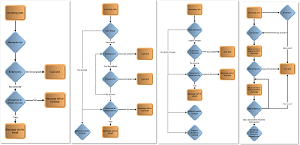 Do you want to see how most people handle the calls with their business telephone system? These call flow scenarios enable you to quickly choose from the most common choices and can help you get a good solution quickly.
Business Telephone System Scenarios
[button link="http://virion.com.au/services/cloudpbx-hosted-pbx/" bg_color="#0e6bf5″]CloudPBX Features[/button] [button link="http://virion.com.au/servicesupport/request-a-quote/"]Request a Quote[/button]  [button link="http://virion.com.au/order-cheap-phone-system-now/" bg_color="#0cba06″]Sign Up Now[/button]