The Right Voice Codecs Need to be Configured
The upload speed of your broadband Internet connection is critical to ensure good quality VoIP conversations on a VoIP Business grade Telephone System. There are two main voice codecs used for voice conversations using VoIP; G.711 and G.729, with G.711 being the best quality (ideal for businesses with Tier 1 grade internet) but also taking up the most bandwidth requirements.
This diagram from the Cisco website shows the different VoIP codecs with packet information and bandwidth requirements.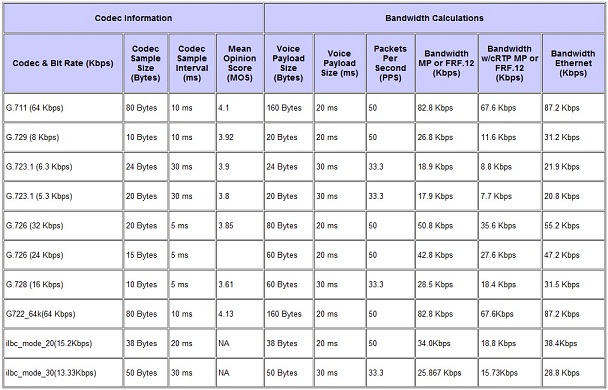 From the Cisco website
How Many Concurrent Call Conversations?
If you do a speed test of your Broadband Internet service you'll see your upload speed and by using the table above you'll be able to roughly gauge how many concurrent conversations you can have using a VoIP telephone system and your current Internet service.
When companies grow they'll often have two broadband Internet services, once for data and one for voice and this ensures that the voice quality remains consistent regardless if your staff are transferring a lot of data or watching cat videos on Youtube!
Another very important aspect of your Internet services is to have it optimised so that voice traffic is given priority over data traffic. They call this Quality of Service or QoS.
VoIP Business Telephone System Handsets


VoIP handsets enable your small business to take advantage of the functionality and flexibility of a hosted CloudPBX. These handsets can be located in remote offices like staff or contractors homes or even interstate or international offices.
Learn more about Business Telephone System Handsets
Business Telephone System Call Flow Scenarios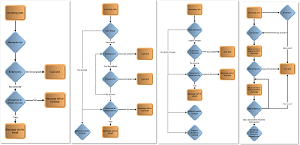 Do you want to see how most people handle the calls with their business telephone system? These call flow scenarios enable you to quickly choose from the most common choices and can help you get a good solution quickly.
Business Telephone System Scenarios
[button link="http://virion.com.au/services/cloudpbx-hosted-pbx/" bg_color="#0e6bf5″]CloudPBX Features[/button] [button link="http://virion.com.au/servicesupport/request-a-quote/"]Request a Quote[/button]  [button link="http://virion.com.au/order-cheap-phone-system-now/" bg_color="#0cba06″]Sign Up Now[/button]